Welcome to Pipe & Piling Concrete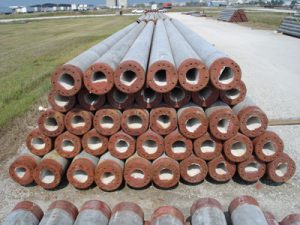 Introducing Pipe & Piling Concrete Products Corp and Pipe & Pile Concrete U.S.A. Co., the newest members of the Pipe and Piling Supplies Family!
Pipe and Piling Concrete retains the exclusive North American distributorship for ICP Spun Concrete Piling.
ICP Piles are pre-stressed and have a light weight to capacity ratio. Spun Concrete Piles come with a standard beveled end-plate at both ends, which allow quick splicing. ICP Piles are cut with a skilsaw equipped with a diamond tooth blade.
ICP have been producing piling since 1977, and is the largest manufacture in South East Asia with eleven ISO certified plants. Pipe and Piling Concrete has been marketing ICP Piling in Canada, the Caribbean and the United States since 1999. ICP Piling have been installed for foundations for buildings, assorted structures, fixed docks and floating docks.
ICP Piles are high strength and lighter than conventional square prestressed piling. They are easy to install and can are designed to be spliced by welding the two end plates together. ICP piling is an economical solution to many piling related project. They are low maintenance and environmentally acceptable, with a long life span.
President's Message
Pipe & Piling Supplies Ltd. was founded in 1958.
Our commitment to excellence comes through in every order processed. This company is centered on a desire to provide top quality service while maintaining the total satisfaction of all our customers.
The newest addition to the Pipe & Piling Supplies family is our concrete division: Pipe & Piling Concrete Products.
All Pipe & Piling products are available at competitive prices and rapid turnaround delivery.
Throughout our 50 years in the steel industry Pipe & Piling Supplies Ltd. has expanded throughout Canada and the United States assuring our clients ease of access to our quality products and dedicated staff.
We look forward to serving you with quality, value and satisfaction.
Jack Dym
President